A WARM WELCOME TO MY WEBSITE AND ART GALLERY
I am an Edinburgh based artist working mostly in acrylics and I specialise in representational art covering a variety of subjects ranging from 'Transport' (I am a member of the Guild of Railway Artists- A.G.R.A.), landscapes (mostly Scottish), street scenes, local scenes (many of Edinburgh, the Lothians and Fife), through to portraiture, still life and pets.
The portfolio pages will show some of my work and my 'style', which I hope you like.
All of the images are available as individually signed, archive quality prints in a variety of sizes to order. Some of the original paintings are still FOR SALE although many have been sold in exhibitions or were originally painted as private commissions - PLEASE CLICK ON THE IMAGE FOR DETAILS
I welcome commissions of any sort (As a direct result of a previous commission by the main contractors of the new 'Kincardine' / Clakmaananshire Bridge for a painting whilst it was under construction – see the 'Landscape' and the 'Transport' portfolio - I was commissioned early last year by Balfour Beatty for a painting of the new bridge over the Clyde at Auchenshuggle, on the new M74 Link).
If you have a subject in mind that you would like to have an original painting of, then please get in touch via the 'Contact Me' page and we can discuss your requirements. This could perhaps be as a unique and very personal gift, wedding or retirement present etc. etc.
Thanks for taking the time to view my website, and I look forward to hearing from you.
Colin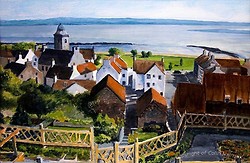 Union of South Africa hauls the Royal Train over the newly opened Borders Railway, 9th September 2015
Edinburgh Paintings
Latest work

(Contains 4 photos)
These are my latest paintings, whether by direct commission or just because I chose them as subjects that I wanted to paint. They can also be found elsewhere on my website in their respective portfolios, i.e. 'Landscapes', 'Portrait or Figurative' or 'Commissioned Works' etc. I hope that you enjoy viewing them as much as I enjoyed painting them and if you have any comments on any of these or on any other of my paintings please do so in the comments box.
Best Wishes for 2015
Colin
Original Work FOR SALE

(Contains 16 photos)
A collection of my original paintings still for sale. Please contact me if you are interested in purchasing any of these.
Edinburgh Paintings

(Contains 19 photos)
A variety of views of Edinburgh - my home town.
Landscapes

(Contains 41 photos)
A variety of general landscape paintings which were completed over a period of time. Most have been painted from photographs that I have taken on my travels, although quite a few were as a result of private commissions. If you have a favourite subject or view in mind which you would like to be made into a painting then please contact me and I will be delighted to discuss your ideas.
Transport

(Contains 9 photos)
Railway and transport subjects
Portraits and figurative work

(Contains 11 photos)
Most of these portraits were as a result of private commissions.
Commissioned Work

(Contains 29 photos)
This shows a gallery of my commissioned work, ranging from private individuals to corporate clients and covers a variety of subjects. I always welcome commissions as each one provides a unique challenge. If you have an idea of a painting in mind then please get in touch in the first instance through the 'Contact Me' page, leaving your name, phone no. and e-mail contact details and we can discuss your requirements.

2012 and 2013 proved to be busy years for commissions starting with the Balfour Beatty (Civil Engineers) commission of the Auchenshuggle Bridge over the Clyde under construction, and this was followed by many other private commissions. If you would like to commission a painting then please get in touch through the web-site and we can have a chat about your requirements or ideas.
Varied Subjects

(Contains 4 photos)
This gallery shows 'other' work, such as still life etc.